On Metal NFC Adhesive Sticker Tag 30mm Square ISO-15693 ICODE SLI
Regular price
Sale price
$25.00 USD
Unit price
per
→
Sale
Sold out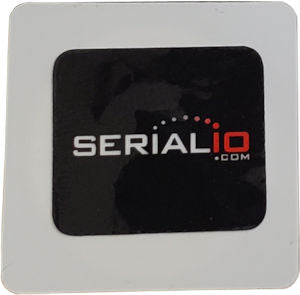 This high-quality, on-metal (aka anti-metal), PET covered NFC sticker tag fully complies with NFC Forum Type 2 Tag and ISO/IEC15693 specifications (13.56MHz). Each tag comes with a 7-byte serial number that provides 112 bytes of user memory and a 32-bit password option—perfect for sticking directly on metal surface for product identification, storing website URL, business card information, and more.
Write and read NDEF data for RFID attendance, security, marketing, and more
Supports contactless transmission of data and supply energy with an operating distance of up to 1.5 cm
Fully complies with NFC Forum Type 2 Tag and ISO/IEC15693 specifications
Configurable password protection with an optional limit of unsuccessful attempts
Quality you can rely on—true anti-collision, data retention of 10 years, and write endurance of 100,000 cycles
Use this tag with apps like SerialMagic, iScanBrowser, Stratus-io Attendance, and Cloud-In-Hand® Mobile Grid, that supports the built-in RFID-NFC reader in iPhone 7, 8, X, 11, 12, 13, 14, 15 and Android devices
Contact us for custom printing (e.g. logo)
Physical
30 x 30 x 0.7 mm (Maximum thickness at the chip location)
PET

Polyethylene terephthalate

[aka poly(ethylene terephthalate)] provides excellent water and moisture barrier
Aluminum antenna
Peel-and-stick adhesive back
PET cover color white
I•CODE SLIX RF Interface (ISO/IEC 15693)
Contactless transmission of data and supply energy (no battery needed) Operating distance: up to 1.5 m (depending on antenna geometry)
Operating frequency: 13.56 MHz (ISM, world-wide license free available)
Fast data transfer: up to 53 kbit/s
High data integrity: 16 Bit CRC, framing
True anti-collision
Electronic Article Surveillance (EAS)
Application Family Identifier (AFI) supported
Data Storage Format Identifier (DSFID)
Additional fast anticollision read
Write distance equal to read distance
EEPROM
896 bits, organised in 32 blocks of 4 bytes per block(112 bytes raw, 106 bytes NDEF format).
Data retention of 10 years
Write endurance 100.000 cycles
Ask us about other chip types: SLIX-2: 2528 bits 316 bytes, SLI: 1024 bits 128 bytes, Mifare/Desfire: 8K 1024 bytes, UHF chips, and others.
SLIX2 block 79 contains 16 bit counter, RFU, counter password enabled flag
Security
Unique identifier for each device
Lock mechanism for each user memory block (write protection). Contact before purchase to insure writer will support this.
Lock mechanism for DSFID, AFI, EAS
Commissioning NDEF Data
Ask about options for writing NDEF data to the tag before shipping, e.g. store your desired URL on the tag so tags are ready out-of-the-box.